PR samples provided by Aarni. Today, we bring you a unique collaboration with Aarni, a brand that embodies the spirit of Finland's wild, untamed forests. You might have heard about Aarni watches, but we wanted to shine a light on Aarni's elk leather products that we found out ourselves.
Christmas came early to us this year. Aarni has generously provided our nature bloggers with three exquisite products crafted from Finnish elk leather: a crossbody bag and two clutch wallets. In this blog post, we delve into the captivating story behind Aarni and how they've found a way to give new life to elk hides, an often underappreciated byproduct of moose hunting.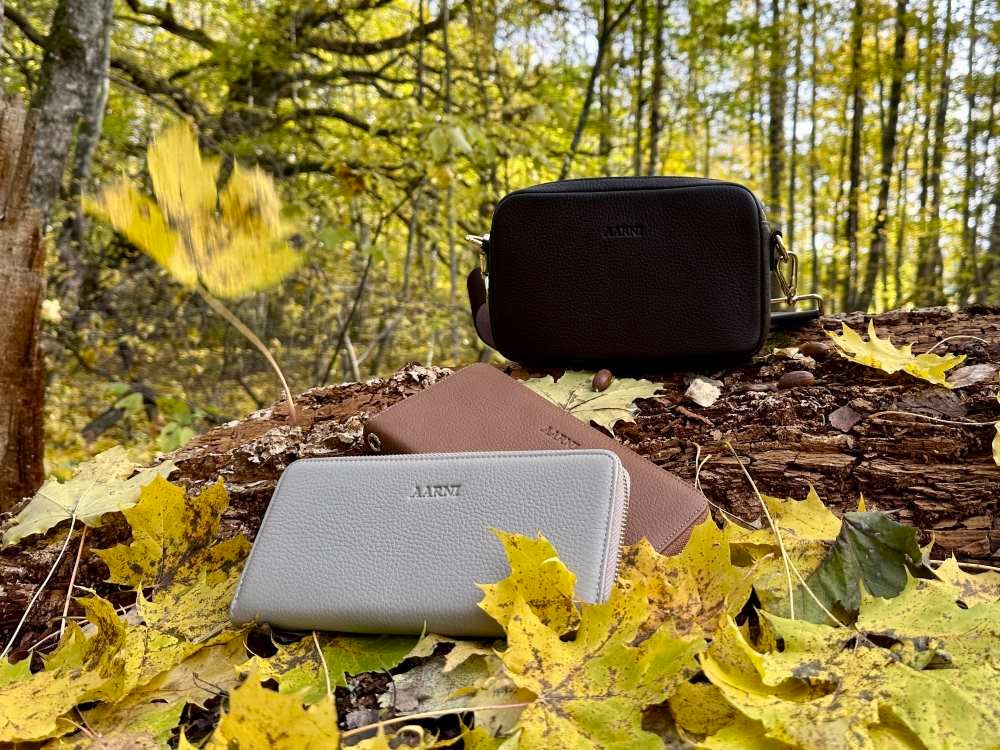 Moose hunting season in Finland began in September. We kindly remind everyone to take it into consideration when you go out in the nature. We want to clarify that we are not hunters, and our mission is not to endorse or promote the killing of animals. Instead, we strongly advocate for ethical and sustainable hunting practices when they are necessary to maintain the balance of wildlife populations and prevent accidents on the roads. Our focus is firmly on respecting and preserving nature. We believe that responsible wildlife management can be an essential part of achieving that goal.
Embracing the Nordic elk leather
Aarni's journey to find the perfect material for their products led them to an unexpected source: the wild elks of the Nordic forests. Elk leather, made from the hides of these magnificent animals, offers exceptional softness and durability, making it an ideal choice for crafting high-quality goods. What's even more fascinating is that elk leather can withstand various weather conditions and humidity better than any other leather, making it a sustainable choice for outdoor enthusiasts.
Perhaps the most striking aspect of Aarni's use of elk leather is the way they source it. According to the Finnish Wildlife Agency, approximately 50,000 elks are hunted in Finland each year, primarily for population control. None of these elks are killed for their hides; in fact, elk hides have often gone unused and ended up as waste. Aarni believes in changing this narrative by repurposing elk hides into exquisite products, thus preserving a part of Nordic cultural heritage.
Aarni's commitment to using elk leather, a byproduct of Finland's sustainable hunting practices, highlights their dedication to preserving nature. By wearing an Aarni product, you not only adorn your style with a piece of Nordic wilderness but also contribute to the respectful and sustainable utilization of nature's resources.
Aarni crossbody bag: A stylish companion for every day
We fell in love the Aarni crossbody bag. It is more than just a stylish accessory; it's a testament to the ingenuity of Finnish craftsmanship. Made from the hides of Finnish elks, this bag charms with its softness and durability. The dark brown color complements the autumn palette, making it the perfect companion. With an adjustable strap and a zipper closure, it ensures all the essentials are securely carried. Inside, you'll discover a zipper pocket, card slots, and a spacious open side pocket.
A touch of luxury: Finnish elk leather clutch wallets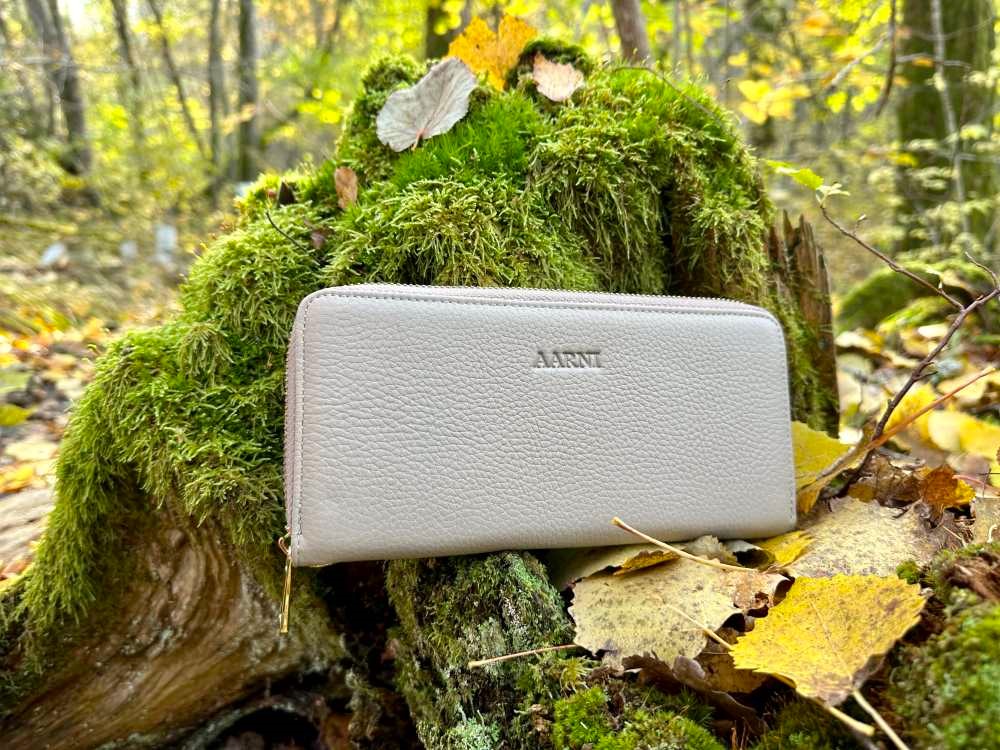 As we explored the enchanting world of Aarni and its remarkable use of Finnish elk leather, we came across yet another treasure from their collection, the classic clutch wallet. The use of elk leather for Aarni's wallet collection aligns seamlessly with their philosophy of sustainability and respect for nature. Just as with the crossbody bag, elk leather utilized in these wallets is a byproduct of moose hunting, ensuring that no animals are sacrificed for their hides. These wallet gems are a testament to the brand's commitment to combining elegance with functionality, all while respecting the wonders of nature. The warm and earthy colors, taupe and cognac, echo the hues of the Finnish forests during the autumn season.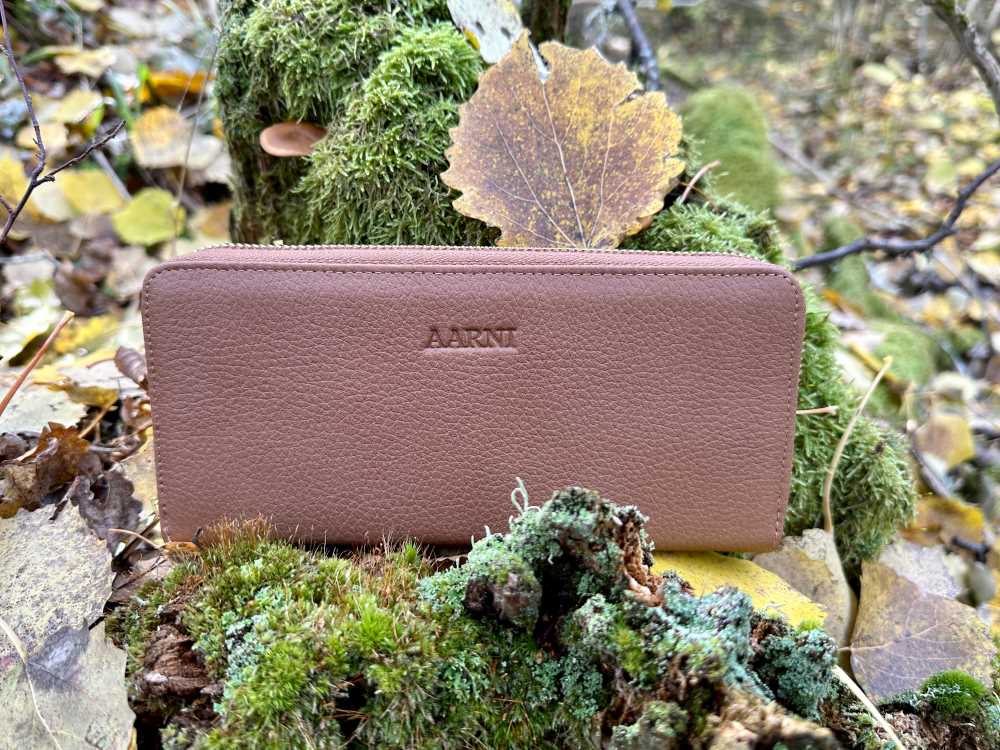 We noticed that Aarni's commitment to quality doesn't end with the products themselves. Each of their bags and wallets was thoughtfully packaged and delivered in a stylish gift box. This not only enhances the gifting experience but also underscores the brand's dedication to providing a complete and luxurious experience to their customers.
Let's cherish the magic of the Finnish forests, and together, we can ensure a future where nature thrives, and its resources are used with care and respect. Visit Aarni at https://aarniwood.com/.